The Passing of Judge Charles P. Mirarchi, Jr.
05-12-2010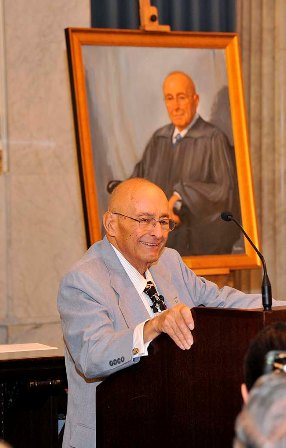 It is with great sadness that we inform our members of the passing of Judge Charles P. Mirarchi, Jr. who passed away on May 11, 2010.
Members of The Justinian Society of Philadelphia today spoke of their many years of abiding affection for Judge Mirarchi.
We remembered a trailblazing member of our community who opened the door for so many others, a man who achieved great heights but never forgot his humble beginnings.
"We are overcome with grief but we have all shared so many rich and wonderful moments with Judge Mirarchi over the years, " said Justinian Chancellor Gina Furia Rubel. "In many ways, he will never leave us, he will always be with us because he taught us so much. We were thrilled to honor his legacy last fall when we unveiled his portrait which now lives on in the Philadelphia Court of Common Pleas."
On a personal note Furia Rubel spoke of her family's long association with the Judge.
"Judge Mirarchi was a close friend of my family long before I was born," she explained. "He taught me and so many of our members in law school. When I was admitted as a member of the bar, he gifted me with my grandfather, Judge Edward Furia's gavel. My grandmother had entrusted Judge Mirarchi with the gavel when my grandfather passed away in 1971. They were both pioneers in Philadelphia's Italian-American legal community."
Furia Rubel's father and past Justinian Chancellor, Richard F. Furia said, "Judge Mirarchi was a wonderful friend, neighbor, and member of the legal community for as long as I can remember. He was always a model member of the bench and bar. A patient, respectful and honest judge, he and his kind words will be greatly missed by so many." Furia noted that all three members of Judge Mirarchi's old law firm: Mirarchi, Coppolino and DeFino became judges of the Court of Common Pleas in Philadelphia – all were from South Philadelphia and all were Philadelphia Justinians.
William P. Fedullo said he still thinks of Judge Mirarchi "as the standard by which I rate all judges." Fedullo, a past Justinian Chancellor who clerked for the Judge said "Judge Mirarchi's wise counsel then and throughout the years sustained me." Fedullo remembered the Judge's selfless work for Delaware Law School of Widener University (now Widener University School of Law) and the Judge's many charitable endeavors. "He created opportunities and careers for so many people. He was so kind and generous. We all loved this man," Fedullo added.
Another former law clerk to Judge Mirarchi, Annette Ferrara said, "It takes a man with the utmost self confidence to focus on other people besides himself. It takes a man who truly knows himself who can be completely genuine and unpretentious with everyone, whether they are a judge, a file clerk, or anyone in between. And it takes a man of great character who will let other people shine. Judge Mirarchi, was that man."
"We have lost a giant," Furia Rubel added. "But we are so enriched by Judge Mirarchi's great legacy that we are stronger and better for it. The Justinians never, ever forget our heritage. Judge Mirarchi is part of our heritage and we will forever honor and revere his memory."
There will be a viewing for Judge Mirarchi at Monti-Rago Funeral Home (http://www.montifuneralhome.com/FuneralHome/) Friday, May 14, 2010 from 7:00 to 9:00 p.m. and Saturday morning, May 15, 2010 from 8:30 – 9:30 a.m. A Mass of Christian Burial will follow at 10:00 a.m. at Annunciation Church, 1511 S. 10th Street, Philadelphia.