August 2021 Justinian Member of the Month
07-30-2021



Joseph P. Stampone
August, 2021 Justinian Member of the Month

Joe is the founder and managing shareholder of Stampone O'Brien Dilsheimer Law since 1984. His practice has focused on a variety of civil litigation and transactional matters, primarily complex personal injury matters, including motor vehicle accidents, product liability, construction accidents, and medical malpractice.
As an attorney with 40 years of experience, Joe continues to actively litigate catastrophic injury cases and has a keen interest in aerial photography as it relates to accident investigation, safety, and accident reconstruction. Having been involved in the practice of law primarily in the personal injury field, he has gained invaluable knowledge and experience as it relates to product safety, vehicle safety, construction site safety, and an overall understanding of the various systems necessary to ensure the reduction and elimination of personal injury risks and hazards.
Joe is a graduate of LaSalle University (BA Political Science 1976) and Western New England University School of Law where he received his Juris Doctorate Degree, Magna Cum Laude (J.D. 1980). He is a member of the American, Pennsylvania, and Philadelphia Bar Associations, as well as the Justinian Society. Joe has served as a law clerk to the Honorables Albert F. Sabo from 1979 to 1980 and Edwin S. Malmed in 1978. Both jurists sat on the bench of the First Judicial District of Pennsylvania, Court of Common Pleas, Philadelphia County; the former in the Criminal Division and the latter in the Civil Division.
Joe is admitted to practice in the Supreme Court of Pennsylvania; the Bar of the Commonwealth of Pennsylvania; the United States Court of Appeals for the Third Circuit; the United States District Court for the Eastern District of Pennsylvania; and the United States Tax Court. Joe has received numerous awards and distinctions including being a Member of the Multimillion Dollar Advocates Forum; the Philadelphia Inquirer Top Lawyers of Philadelphia 2016-2021; the National Trial Lawyers Top 100 Civil Plaintiff's Lawyers 2016-2019; America's Top 100 High Stakes Litigators 2017-2021; Philadelphia Magazine Top Attorneys in Pennsylvania 2017-2019; New York Times Lawyers of Distinction 2019-2020; Pennsylvania's Best Law Firm Mentor 2020 by the Legal Intelligencer; has a perfect 10.0 AVVO rating; and has been named a Pennsylvania Super Lawyer since 2005 including being named to the Super Lawyers Philadelphia Top 100 list since 2020.
Joe is actively involved in the community, having served as an officer and commissioner of the Lower Gwynedd Little League; member of the Order of Sons of Italy in America, Tacony/Mayfair Lodge; and, former member and counsel to the United Independent Italian American Club, Philadelphia, Pennsylvania and the Torresdale-Mayfair Lion's Club. Joe served six terms as President of the National Italian American – Political Action Committee, formerly headquartered in Washington, D.C., where he has also served as a board member and executive committee member. He has also served as the Dinner Chair for NIA-PACs annual "Carnevale".
Joe employs a hands-on, community-driven approach to representing his clients. Well before today's social justice movement, Joe commissioned a mural of Lady Justice on his Montgomery County building. The mural, which was painted by world-renowned artist, Eric Okdeh, symbolizes Stampone O'Brien Dilsheimer Law's unwavering commitment to defending its neighbors. Joe is also the title sponsor to the 18th Annual Stampone Law Tri the Wildwoods Triathlon; an award-winning event held at the Jersey Shore where Joe has been a homeowner since 1987. Community involvement is not just something Joe ingrained in the corporate culture of the firm, it's a way of living. **
Joe is also a board member of The Superhero Project, an organization which raises money to assist families with babies born prematurely and residing in the Neonatal Intensive Care Unit of the hospital. The Superhero Project also funds the installation of Angel Eye cameras in the NICU to allow parents and families to see their loved one when they are unable to be by their bedside.
In 2005, Joe was given the distinct honor of being Knighted in Rome, Italy as a "Cavalieri di Cristo" with the Templar Order of the Poor Knights of Christ. In 2009 and 2010, he received the Golden Justice Award at Pennsylvania Golden Gloves Eastern Regional Championships. Joe also maintains Dual Citizenship as a citizen of the Republic of Italy.
Born and raised in Northeast Philadelphia, Joe's interests include sports, cooking, boating, fishing, music and history. Joe is actively involved in commercial real estate development in Pennsylvania and South Florida. In his spare time Joe boats and fishes at the New Jersey shore and in South Florida and has coached High School, American Legion, AAU and Perkiomen Valley Twilight Men's League Baseball. Through coaching Joe is able to share his passion for baseball with others.
He became very involved in baseball throughout his youth and attended LaSalle University on an Athletic Scholarship where he played Varsity Baseball for four years. In his senior year, he was named First Team All East Coast Conference and set numerous school records. Joe has also served as Varsity Baseball Coach of The Shipley School, Bryn Mawr, Pennsylvania and is the Founder of the Whiz Kids Baseball Club, an AAU level baseball program which has grown in size and prominence, becoming one of the premiere programs in the Northeast Region. He has also coached American Legion baseball and is formerly the owner and manager of the Plymouth Pirates of the Perkiomen Valley Twilight League, a semi-professional baseball club.
Joe currently resides between Fort Lauderdale, Florida, and Lower Gwynedd Township, Pennsylvania with his wife of 40 years, Julia. Joe has five grown children Nicole (University of Delaware), Peter (Widener University/Culinary Institute of America), Joey (Tufts University/New York University), Danny (Catholic University/Widener School of Law), Andi (Drexel University). Joe also has four grandchildren, Stevie, Danny, Evelyn, and JP.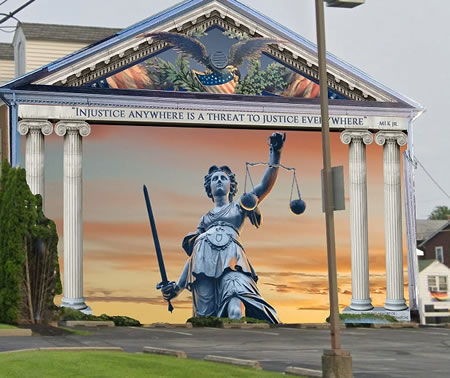 Una Piccola Conversazione
1. How long have you been a member of the Justinian Society?
I joined the Justinian Society in 2004 by the invitation of Richard Furia and Andrew DiPiero, well known members of the Society for many years. Andy later joined my firm as a partner with Drew D'Angelo.
2. Why did you join the Justinian Society, and what do you hope to gain from membership?
Given my Italian American background and the great work of the Society, it was a no-brainer to become a member. I have always been very supportive of any organization which celebrates our Italian heritage. The Society provides an opportunity to interact with many lawyers from similar backgrounds and provides an opportunity to connect on both a personal and professional basis.
3. What do you love or enjoy most about your job?
There are two primary things which bring enjoyment to my job. First, being a plaintiff's personal injury attorney, I am given the opportunity to provide help to those who have suffered a traumatic injury and more often than not, I become an extended member of their family. It is a very important role because they become dependent upon you to help put their life back together and I take this role very seriously. Second, having now practiced for over 40 years, I have the opportunity to guide and mentor the younger attorneys in our firm. I was lucky enough to have strong mentors in my own life and I love being able to play a part in the professional development of those who will follow me, including my son Dan, and nephews, Kevin and Tyler.
4. How would you define success?
For me, success is all about "family" and when I refer to family, I am including my family of friends; my family at work; and my family in the larger community. So, success for me is being able to play a part in the success of others, whether it be a son, daughter, co-worker, or a client. And I would be remiss to not mention that my wife Julia and I have experienced the success of raising five children and now enjoying four grandchildren. It always comes back to "family".
5. Who or what inspires you?
I am inspired by my wife of 42 years, Julia. I am inspired by my children, Nicole, Peter, Joey, Danny and Andi; and inspiration for me began with my grandparents and parents. They were not people of great financial means, but they knew what was important in life and this inspired me both personally and professionally.
6. If you could choose anyone in history as a mentor, who would you choose and why?
When trying to answer this question, one always thinks of historic figures. But that's not real for me. And it is difficult to credit a single person who provided inspiration as a mentor. Of course, my Mother and Father, Pete and Joan, would be at the top of the list without question. Without them, I'm not sure I would be where I am today. But I also recognize two men who played a large part in my life all the way back to high school days at North Catholic. I met Joe Malizia and Larry Conti as a Freshman in high school playing baseball. Joe and Larry have provided incredible guidance over almost 50 years as teachers and coaches. But most of all, they have been examples of how to live your life and to connect to hundreds if not thousands of students and athletes with whom they have interacted. Salute'
7. Name one valuable lesson you've learned in your life and that you would advise other members to follow?
Oh, that's easy…. never cut your spaghetti with a knife. Seriously, tell the important people in your life "you love them". You never know when you could lose that opportunity.
8. What's something about you (a fun fact) that not many people know?
In 2005, I was given the distinct honor of being Knighted in Rome, Italy as a "Cavalieri di Cristo" with the Templar Order of the Poor Knights of Christ. I am also a dual citizen as a citizen of the Republic of Italy.
9. What's the last book you read?
At the risk of sounding hollow and disingenuous, I must admit the last book I read was a cookbook. In fact, the last 800 books I read have been cookbooks. Need a recipe?
10. What's your favorite thing about Philadelphia, i.e., sports team, restaurant, museum, history, music etc.?
My favorite thing about Philadelphia is that I was lucky enough to be born in a City of "neighborhoods and parishes". I was born and raised in the Wissinoming/Tacony section of Northeast Philly and attended St. Bartholomew's Catholic School and would not trade it for anything. The neighborhood was our backyard. I spent so much time playing ball in the local playground with my brothers and friends and those relationships continue to this day. When asked by another Philadelphian where am I from, the answer would always include "North", "St. Bart's", or "Moss Playground". And that answer would cover it all.