Justinian Society Elects Officers and Board Members
06-14-2007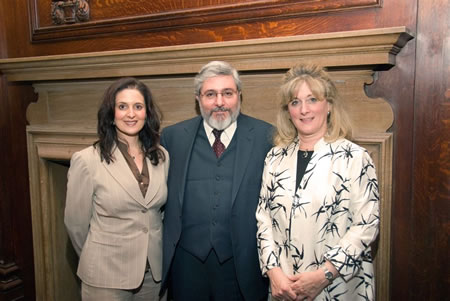 Philadelphia (June 2007) – The Justinian Society of Philadelphia held its general election and scholarship award cocktail party on June 14, 2007. The Nominating Committee of the Justinian Society nominated and the members unanimously elected the following officers for one-year terms:
Chancellor – Rudolph Garcia, a Shareholder at Buchanan Ingersoll & Rooney PC in Philadelphia;
Vice Chancellor – Gina Furia Rubel, President/CEO of Furia Rubel Communications of Doylestown, Pa.;
Secretary – Roberta Pichini, a Partner at Feldman, Shepherd, Wohlgelernter & Tanner of Philadelphia; and
Treasurer – Gino Benedetti, a Partner at Dilworth Paxson LLP in Philadelphia.
Attorneys unanimously elected to serve three-year terms on the Justinian Society's Board of Governors are: Francis X. Bielli, Michael Mattioni, Noelle Palazzo, Valerie A. Pedicone and Nicholas J. Staffieri.
Founded in 1935, the Justinian Society is a legal organization comprised of attorneys, judges and law students of Italian-ancestry. Located in Philadelphia, the Society's members celebrate generations of involvement within the legal community. For more information, go to www.justinian.org.
For more information, contact Gina Furia Rubel at 215-340-0480 or via email at gina @furiarubel.com (eliminate space before @).